Colors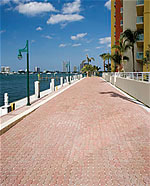 Uni Eco-Stone boardwalk
The paversystems Puality Assurance ™
Our pavers are designed to the highest standards for durability, color and texture. Aqua-Bric® and Uni Eco-Stone™ pavers comply with or surpass ASTM C-936-01 standards. Turfstone™ grid pavers comply with or surpass ASTM C-1319 standards. PaverSystems is a member of ICPI and meets or exceeds the standards of the Interlocking Concrete Paver Institute®.


| | |
| --- | --- |
| Aqua-Bric pattern | Uni Eco-Stone pattern |
Color
Pavers are manufactured from mined materials and colors will vary from batch to batch. Colors printed here are reproduced as accurately as possible; however, every paver is unique and may not exactly match what you see. For the best idea of actual color and texture, ask your installer for samples of your favorite pavers.



Generation 1 Colors
Click on the images below to view a larger display.


Adobe

Amaretto

Bent Creek

Biscayne

Brickyard

Brown Chestnut

Camel

Charcoal

JACKSONVILLE
8081 Philips Highway, Suite #7, Jacksonville, FL 32256

ORLANDO
39 West Landstreet Road, Orlando, FL 32824

SARASOTA
343 Interstate Boulevard, Sarasota, FL 34240

TAMPA
8910 North 12th Street, Tampa, FL 33604

WEST PALM BEACH
7167 Interpace Road, West Palm Beach, FL 33407