Artificial Turf
For many property owners in Lutz, FL, having a lush, green outdoor space with verdant lawns is a top priority. However, natural grass can be challenging to maintain, requiring regular watering, mowing, fertilizing, and weed control. This can be time-consuming and expensive, especially for those with more extensive properties.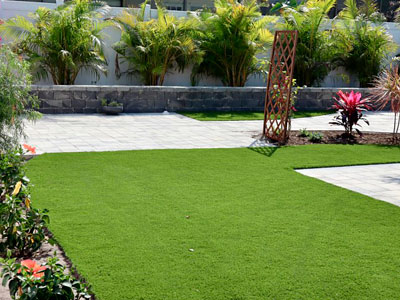 High-Grade Artificial Grass
At Couch Brick Pavers, we recommend artificial grass installations as a practical, low-maintenance alternative. Our synthetic turf looks and feels like natural grass without constant upkeep. Property owners can enjoy a beautiful and functional outdoor space without the hassle and expense of traditional grass.

Our team of experts has the experience and skills to install high-quality artificial grass that meets each client's specific needs and preferences. We use only the best materials and equipment to ensure a durable, long-lasting, low-maintenance outdoor space solution.


Benefits of Artificial Grass
Unlike natural lawns, artificial turf doesn't need regular watering, mowing, fertilizing, or weed control, saving time and money
This installation can withstand harsh weather conditions, including extreme heat, cold, rain, and snow, making it suitable for use in any season.
Synthetic grass is durable and long-lasting, with a lifespan of up to 20 years, proper care, and maintenance.
It helps reduce water usage and eliminates the need for harmful chemicals such as pesticides and fertilizers, making it an eco-friendly option.
Artificial turf provides a soft and safe surface for children and pets to play on, reducing the risk of injuries.
You can use it in various settings, including residential lawns and commercial properties.
Our high-quality synthetic grass looks and feels like natural grass, providing a beautiful and functional outdoor space.
Our Artificial Turf Installation Process
We meet with the client to understand their requirements, preferences, and budget.
The team will evaluate the installation site to determine the area's size, shape, and condition and recommend any necessary modifications.
We remove any existing grass or debris and level the installation area to ensure proper drainage.
The next step involves crushed stone base installation to create a stable foundation for the synthetic grass.
We install artificial turf, ensuring a seamless and natural appearance.
Adding infill material to the synthetic grass provides stability, cushioning, and durability.
We trim and shape the artificial grass to fit the installation area and clean up debris.
Customized Artificial Grass Solutions
Our company is well-known for installing artificial grass, and we pride ourselves on providing individualized service to meet each customer's demands. Our dedication to quality shows in the high-grade supplies and cutting-edge tools they use for every job. We provide the highest quality artificial grass installations at the most competitive rates.

Skilled specialists on our team collaborate with customers to identify their needs and provide tailor-made services that are within their means and exceed their expectations. We can provide artificial grass for any property, whether a home or a business.

If you want high-quality artificial grass installed on your residential or commercial property, please call Couch Brick Pavers at 727-645-6909 and discuss your requirements with our experts. If you prefer to write to us, please use this Online Form, and we will call you back soon to understand your needs and offer the best installations.